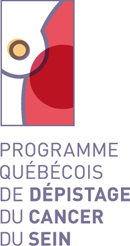 Following numerous studies spread over ten years, Quebec launched, in May 1998, on the basis of a frame of reference, the Quebec Breast Cancer Screening Program. The goal of the Quebec Breast Cancer Screening Program is to reduce breast cancer mortality by at least 25 % among women aged 50 to 69, over a ten-year period.
The Quebec BREAST CANCER SCREENING Program aims to:
reduce the breast cancer mortality rate by 25 TP2T over a ten-year period
improve the early detection of breast cancer in women aged 50 to 69
maximize detection of small tumors
improve accessibility to screening mammography
ensure that screening is carried out in centers with high quality standards
ensure that the services offered aim to satisfy and maintain the quality of life of women and take into account the needs and rights of women, particularly the right to confidentiality and the right to be able to make an informed decision
Connections :

The HSCM is one of the major university hospital centers affiliated with the University of Montreal. Now one of the largest hospitals in Quebec, the HSCM remains the only hospital center to offer all medical and surgical care.
1575 boul. Henri-Bourassa O.
Suite 150
Montreal (Qc) H3M 3A9
514 331-8212
1435 boul. St-Martin O.
Suite 101
Laval (QC) H7S 2C6
514 331-8212